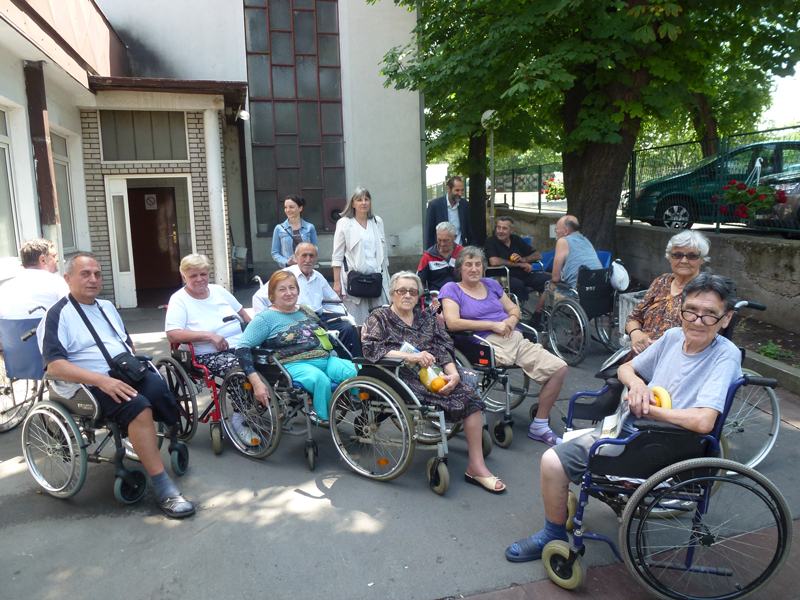 When you come "on line" you realize what actually crucial in life is
On a sunny and pleasant Sunday morning on 17 June 2018 the volunteers of Charity sections Faith Charity Stewardship after the Divine Liturgy came to visit patients on rehabilitation at the Special Hospital for Rehabilitation and Prosthetics known as "Rudo". The feeling is that the grace of worship in some invisible way passes onto these meetings with people and children that we visit.
On our way we think about the Gospel that we have heard at the Divine Liturgy and question ourselves how we respond to the God, Who knocks on the door of our heart where our treasure is. He says, "Where your treasure is, there will your heart be also" (Matt. 6:21). And we know how much we are daily occupied with worries about many things that are not of precious. We are not generally aware that in this way we look like pagans as well. That the state is like this the God warns us in the Holy Gospel deciphered this week: "Do not worry, therefore, saying, what shall we eat, or what shall we drink, or what we will wear? For the pagans seek all these; and so does your heavenly Father that you need all of this. But seek first his kingdom and his righteousness, and this will be given to you "(Matt. 6, 31-33). This is the most important life worry and the true treasure that by God's help one gets if living by the Gospel.
In the courtyard of the hospital there was a larger number of patients on rehabilitation so we spent the most time socializing under the open sky. We brought them fruit and shared a new issue of "Pravoslavlje". They love our visits, conversation and jokes. Progress in rehabilitation is impossible without personal calmness and strong-will. Dragan Minic, an invalid with both amputated legs because of diabetes, spoke about these. As he said for himself "sugar ruined him." He mastered walking with the aid of prosthesis well, he can go up and down stairs as well. He learnt a lot there, in the hospital. He wants to do everything by himself, because "when there is no one around, who is going to help me." He happily talks about his family, especially about his grandson and granddaughter; the little one knows how to cuddle a grandpa. He said, "I live for my grandchildren, save up and I try to buy them something and make them happy. I always see something new about them." We took photos for memory with him and Slobodan Nikolic, nickname Boban, who accompanied him. And in his case also diabetes was fatal and illness occurred, he said, as a result of losing a job. Slobodan is a joyful nature, he was an accordion player and played on Saturdays and Sundays at weddings to earn when there was no money. He used to know a thousand and two hundred poems by heart. He does not play anymore because his heart weakened as well.
During the conversation the volunteers took photos and with other patients by their wish, and promised to bring these together photos when they come next time.  On our question how do they look now from that perspective on everyday life in which we live, full of various worries and often full of nervousness they say. "When you come "on the line" situation: either they cut your legs or you go to Haven, then you realize what really important in life is." "Keep your health as long as you have it," and "People think that the most important thing is " that I have everything", but they do not know that "then you have nothing."
We also visited patients in the rooms and tried at least briefly to talk with each of them and listen to what they want to say and share with us; and we also wanted to share them as much as possible what we carry inside of our hearts, faith in the Resurrected Christ.
During our visit, it was obvious that many of them were glad that people from our Serbian Orthodox Church came to them. They know that this is the time of Feasts of apostles Peter and Paul and they very much want to confess and take Communion. It was touching to see their desire to take Communion and unite with the God and the inability to come to church for the Sacred Liturgy and to come to the Holy Communion. Life drama over the loss of an arm or a leg, difficult surgeries and long rehabilitation process often leads people to rethink about their lives. So during one visit to this special hospital quite spontaneously we witnessed a life story of a man who spoke in tears how much he regrets about his actions in life, how he repented them and worries that because of his sins his family can suffer. Surely that for him and all other who wish to confess, taking the Holy Communion would be for salvation and help in carrying this difficult cross of disability. On us is to help them in fulfilling this great need and wish.