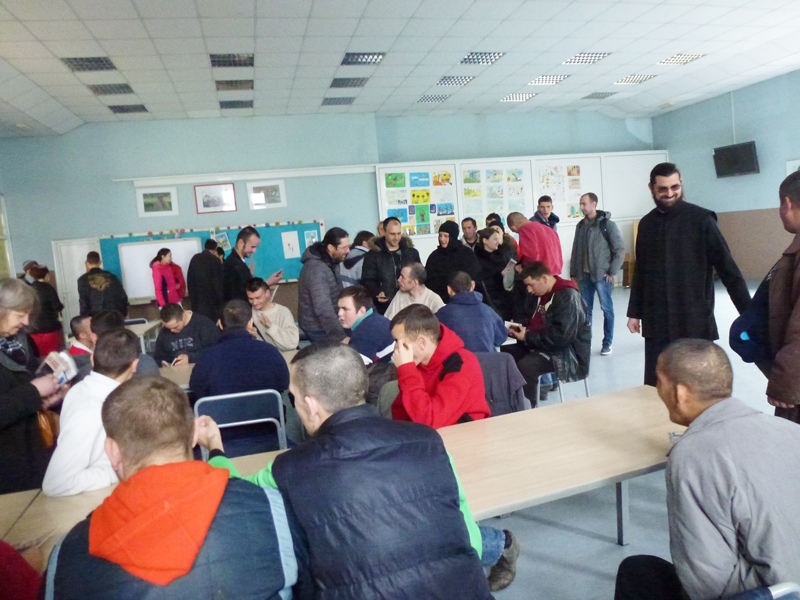 See me with your heart to understand me better
On the fourth Sunday of the Holy Fast on March 18th 2018 volunteers of the Faith Charity Stewardship Merciful Section (VDS) together with Deacon Branislav Jocić, deputy of the VDS Secretary have visited the Institution for Children and Youth Sremčica. The meeting place was on the premises of the VDS in Francuska St. 31. The volunteers came here after the liturgy in their churches to visit together this children`s home, to spend some time with children and bring fruit, school supplies and bulletins Pravoslavlje, Misionar and Svetosavsko zvonce. They also went there to bring and share as much as possible the joy of faith. The faith in God of whose power and importance testifies the entire Gospel as well as this which was read today during the liturgy (Mark. 9, 17-13).
There is a touching event describes in the Gospel when a father asked the Lord to heal his son who had suffered of an impure spirit, mute and deaf. To the Saviour's respond that if he could believe everything was possible to those who believe, the father cried: I do believe the Lord, so help my unbelief, and after he had confessed his faith he was heard. When disciples asked why they had not been able to help the father asking the help, the Lord blamed them for unfaith and revealed: There is nothing else to expel this kin except pray and fast.
Our life in the Church, our liturgical life, especially now in time of the Great Holy Fast helps us not to become a subject of contemporary technical and technological achievements and comfort they offer, but to try to see a spiritual dimension in our lives and the world. We should know that the Gospel is the only milestone to us today in the same way it has been in the time of this event because of the words by the Lord Jesus Christ: I am the light of the world. Whoever follows me will never walk in darkness, but will have the light of life. (John, 8, 12)
Immediately at the entrance of the large and well organised courtyard in the Institution for Children and Youth Sremčica is placed a large board with welcoming words: See me by your heart to understand me better. This message tells a lot with a few words. The meeting and time spent in friendly atmosphere with children who live in this home told that it was the best to see and understand by eyes of our heart.
Director of this Institution, Mrs. Gordana Ković kindly greeted VDS volunteers and deacon Branislav Jocić expressing the wish to improve the cooperation with VDS. During these visit spending time with children, deacon Branislav Jocić talked with Mrs. Vanja Aničić, the coordinator of the professional work, about life in this home and possibilities for further cooperation. Mrs. Vanja told they would like to intensify the existing cooperation; they especially needed some help in training handicrafts and patchwork technique which was practiced in the VDS Women Section. They also expressed their wish to participate with their works at the exhibition that would be organised for the Lazarus Saturday.
Mrs. Vanja, same as during our last visit, was very kind host. She prepared coffee and warm lemonade that was joyfully served by her protégés and affiliates. Mrs. Vanja graduated Faculty of defectology and here she was infected. She fell in love with these children and young people who, in addition to great care and attention, need love she shares with them selflessly. All children love her and some of them say she is their mom. She gladly notified that their Patron feast was Saint King Milutin who had been forerunner of the social protection in Serbia. Last year their guest at the feast was father Serafim from the monastery of the Holy Trinity near Ljubovija with his band Srpče. Children like these songs and this time during our visit they turned on this CD.
Children with disabilities who love in this Home experience certain difficulties in communication but not in hart language. Look, gesture, hug, desire to be photographed, to be among friends told us quite a lot. There were also a real questions and desires to discover something new and to meet far distance world. When one girl who had mentioned Japan realised that among volunteers was someone who knew Japanese language, she asked to get her name written in this language. Our volunteer Tamara gladly fulfilled the wish of this girl including the names of her friends.
Finally, we can say, not only as a joke, that we can always understand each other if we look and speak from the hearth even in Japanese language when needed. It is only important to open our eyes and see as it is said in this Home hymn My Sremčica:
Open your eyes and see
You should know
We are children too
We need your love,
Gentle sight and piece of sky