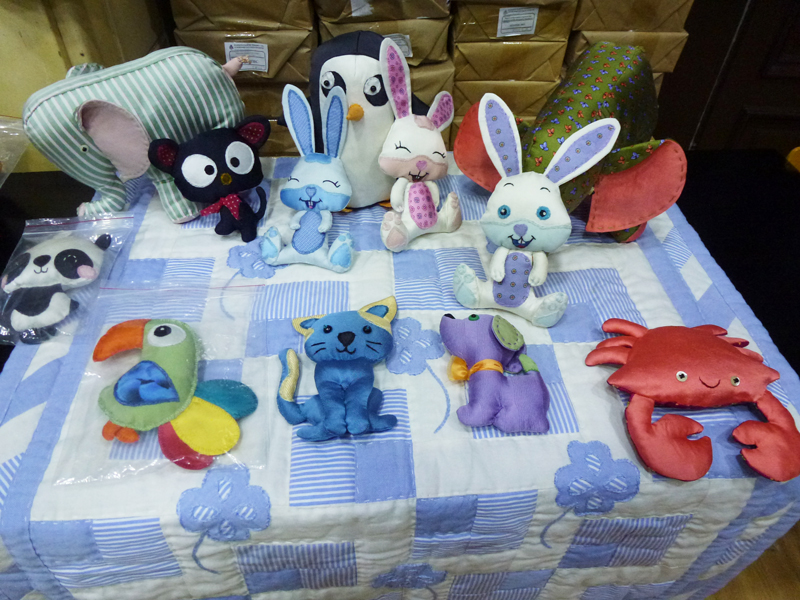 Make your children happy, visit Holiday Bazaar of Female Section
The Female Section of the Faith Charity Stewardship has prepared the Bazaar – a sales exhibition, thematically devoted to the Children's, Mothers' and Fathers' Days within the Nativity Fast. The first Bazaar was held last weekend on the premises of the Faith Charity Stewardship in Francuska 31 Street, first floor. The second Bazaar will be held on Saturday and Sunday, 16 and 17 December 2017, from 11 am to 7 pm, at the same venue.
The Bazaar will showcase decorations, plush toys, pillows, "silent books" and other interesting objects made by skilful members of the Female Section. The highlight of the Bazaar will be the "silent book", which appeared for the first time at such an event. We have asked the author of this interactive book Dijana Vojvodić, an agricultural engineer and the youngest member of the Female Section, to tell us about how she came about this idea:
– The idea existed even before. I examined other people's experiences on the internet and the rest unfolded in teamwork with my mother Božica, who was helping me as she has more experience and is a long-lasting member of the Female Section.
– What makes the "silent book" different from other books?
– The "silent book" is an interactive toy, enabling a child to use all its capabilities – both physical and mental. It is made of natural, soft materials, which makes it an "ecological book" as well. The books exhibited are tailored for smaller children, aged around three, but they can also have more complex tasks, for somewhat older children.
We warmly recommend that you visit the Bazaar of the Female Section of the Faith Charity Stewardship and make your children happy with some of the exhibited products. All products are unique, made of soft materials, or even silk. They were made with the primary aim to make the gentle children's souls joyful during these wonderful holidays preceding Christmas.