Our Department for family, marriage and upbringing within VDS is obliged to help people through counselling in order to solve the problems in family, marriage and upbringing the children which is one of the most sensitive life segments. Our counsellors participate often in the radio broadcasts with these subjects. Priest (clergyman), physician and social worker are included in this work.
The Head of this resource is Dr Sci med Milijana Savić, who was extremely active during past years helping families, children and mothers with breast-feeding and diet. She is in charge in the organization Help to Family. This organization since nineties until today achieved a lot helping and accommodating the most vulnerable. This organization maintains very close cooperation with VDS thanks to Sr Milijana Savić.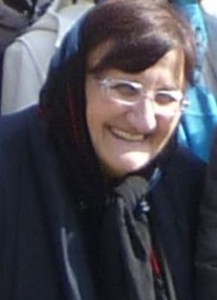 Dr Sci Milijana Savić
This department organizes a platform for Family, marriage and upbringing at the Orthodox People's University in the Patriarchate at last Thursdays each month and moderator is Dr Milijana Savić.
Counselling for family, marriage and upbringing in VDS actively employs the following professionals:
Dr Sci med Milijana Savić, Paediatrics
Mirjana Kostadinović, Day care teacher
Danica Simić, Social worker
Nataša Pavićević, Social worker
Vladimir Marjanović, Social worker
Vuk Matijašević, Deacon
Mr Mihailo Smiljanić, Religion teacher
Counselling for family, marriage and upbringing – Working hours
MONDAY
| | |
| --- | --- |
| Counselling for family, marriage and upbringing (pregnancy, breast feeding, diet and parents love – physician and priest) | 10 AM–1 PM |
If you wish to come to our Counselling for family, it is necessary to make an appointment calling VDS office at: 011/ 2182–776.
Other free of charge examinations within our Health care counselling you can see HERE
Our section Sacredness of life (Aid to families with many children)
VDS management attempts to organize and systematically help families with many children. Until 2013 our activity within this framework was insufficient and random. During 2013 we launched aid to families with many members at the beginning of the school year. VDS provided, as much as it was possible, material help for ten families with many children in the form of help for buying school kits and books needed for the start of the new school year.
This action was fruitful in a way that at the beginning of 2014 we started to create records with detailed and accurate listing of families with many children in order to provide help at the right address or to those who are in need the most. We also try to define certain criteria regarding aid distribution. This listing is in progress and it can serve as data base for coordinated work with other humanitarian organizations that directed its activities toward such families, which resulted with more than useful outcome in practical work.
This unique data base is updated with data collected at the field work done by VDS staff that visit on regular basis these families and have direct insight in their life situations.
VDS tries to provide aid to families with many children in other eparchies such as Vranje, Šumadija and Niš. For these families aid is provided through coordinated actions and also from the Patriarch Pavle Foundation.
It should be emphasised that we delivered, several times, aid in food, diapers, clothing, and drugs buying for children or securing health care in our premises. Our records have significant number of such families and VDS engages devotedly a lot of efforts to help them in all possible ways.
Work within this field of activities growing together with our experience which help us to find new modes of aid.
We also have Counselling for families and individuals victims of sects. In VDS premises we organize counselling with previous appointments. Slađan Mijaljevič is responsible person here.